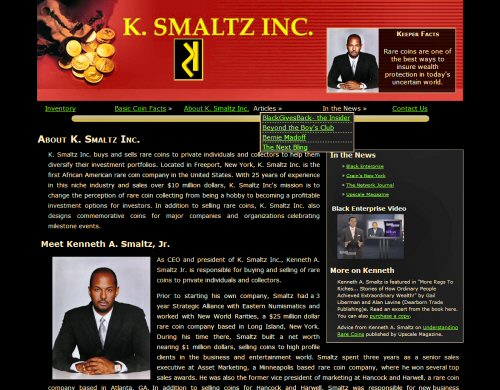 Objective
Kenneth Smaltz wanted to have his website updated to look more presentable, as his aim is to draw younger, first-time coin collectors into the coin market.
Solution
I updated his site by rebuilding it with XHTML/CSS. The original design lacked contrast, and adding contrast really added to the impact of the site. I decided on a CSS implementation of drop-down menus to keep Mr. Smaltz's expanding list of article links in one place, accessible from anywhere in the site.
Mr. Smaltz also wanted to collaborate with Jeff Garrett, and help to move his sizable inventory of rare coins. The site's inventory list updates automatically when Mr. Garrett's inventory changes, since this site interfaces directly with Mr. Garrett's inventory database.
Skills exhibited
Site design
XHTML/CSS/PHP coding
MySQL queries to serve up automatically updating inventory