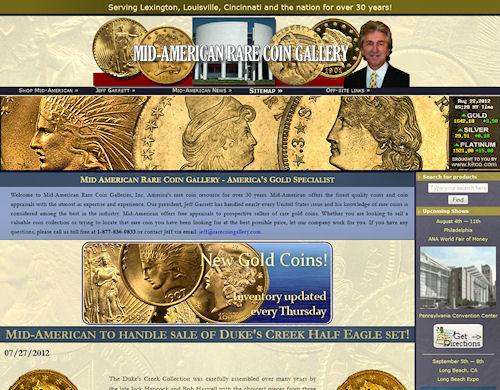 Objective
Jeff Garrett's business website needed continual updating to reflect the status of his ever-changing inventory.
Solution
I developed in-house PHP to serve up the inventory on his site, using the inventory in the format Jeff uses. The inventory list is hotlinked appropriately to inventory highlights detail pages which allow users to see the merchandise as well as read its story.
When I inherited the site, it was constructed fully using tables for layout. I kept the existing design without modification, and reengineered it in XHTML/CSS, thus decreasing the pages load times significantly.
In 2009 Jeff embraced the internet as a means to move inventory, and I set up his site with a robust shopping cart to list his inventory and take orders from internet customers. Orders are taken by the site itself over SHTML using a professionally-signed SSL certificate, and I directed the setup of this added security that was necessary to handle orders.
I am actively maintaining this site.
Skills exhibited
XHTML/CSS coding
Wrote in-house PHP to handle inventory pages through April 2009
Shopping cart installation/configuration/custom design
Website security bolstered to handle internet orders
Photographing/Scanning coins for inventory
I am actively maintaining this site
Testimonial
The web site for Mid-American Rare Coin Gallery, Inc., rarecoingallery.com has never looked better. This is in a large part to due my current web master, Jeff Ludwig. Jeff has given my site a new vitality that is proven by increased sales each month. He is very responsive and follows my instructions extremely well. I would unhesitatingly recommend his services.
— Jeff Garrett
President, Mid-American Rare Coin Gallery