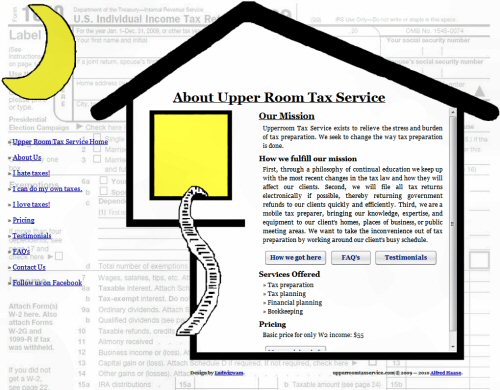 Objective
A local tax service company wanted a new website to promote and expand its growing entrepreneurial business. They wanted their existing logo to figure prominently into the site's design.
Solution
I elected to use the logo as the site's very design template, a bold move that met with the client's great satisfaction. Of course, the logo made a good site favicon. The design is completely validating XHTML/CSS. The client's FAQs, testimonials, and list of obscure tax information is powered by the content management system Textpattern, and therefore they can modify these at will.
Skills exhibited
Site design
XHTML/CSS/PHP coding
Textpattern CMS installation and customization
Javascript implementation for showing/hiding FAQ answers
Testimonial
I found Jeff to be knowledgable and easy to deal with when it came to the developing and tweeking of my website design. He was able to make the site look exactly as I wanted it to. He even offered some suggestions (which I took) to make my site look even better. Others who have viewed it liked the ideas he presented. I recently talked to a customer service representitive from the company where I buy my tax software . I directed her to my site. Without any prompting she said, "This site looks great. What a nice design. This is really neat." I will definately do business again with Jeff.